Organized by the Association Française des Orchestres, this event provides an opportunity for dialogue between the main categories of orchestral players on key issues for the profession.
It is aimed at national and local elected officials and representatives of the Ministry of Culture and the cultural departments of local authorities. It is designed to bring together all orchestral professionals, including musicians, public and private partners, general and specialized educational players, and anyone interested in the human, artistic, political and organizational dimensions of the orchestra.
5th Forum des Orchestres (2023)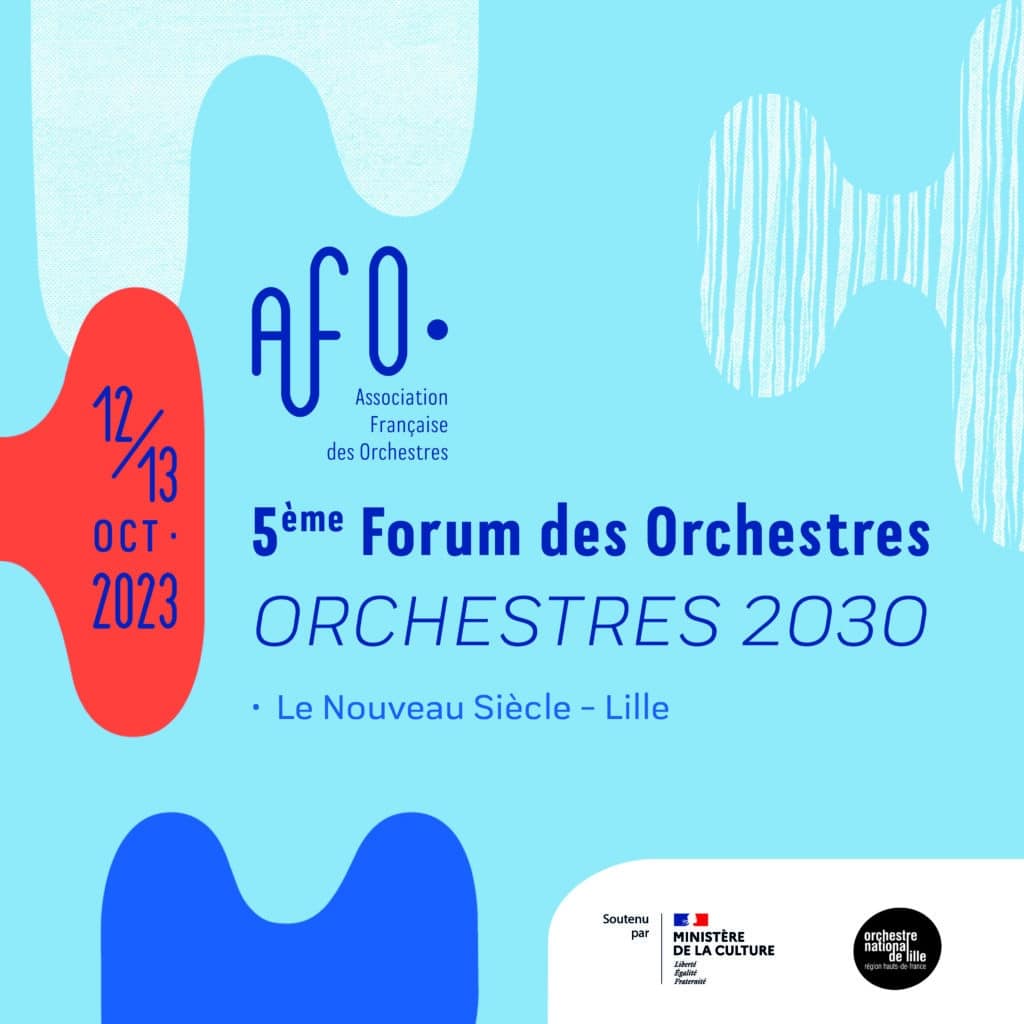 The Association Française des Orchestres is organizing the 5th Forum des Orchestres in Lille on October 12 and 13.
The 5th Forum des Orchestres will debate the future of symphony orchestras, following on from the 2021 Forum hosted by Cité musicale-Metz. Plenary sessions and workshops will provide an opportunity to assess the challenges facing the sector today, and to map out the orchestra of 2030.
3 main themes will be addressed: the public service of music, the profession of orchestral musician and the spectator experience.
4th Forum des Orchestres (2021)
The 4th Forum des Orchestres took place on December 9 and 10, 2021 at the Arsenal de Metz, at the invitation of the Cité musicale-Metz. The Forum provided an opportunity for wide-ranging communication on the reality of permanent orchestras today, and for debate on the recommendations of the Mission orchestres. The discussions highlighted a number of areas of work for the coming years.
3rd European Orchestras Forum (2005)
The 3rd European Orchestras Forum took place on June 22, 23, 24 and 25 2005 in Strasbourg. The forum brought together all those involved in orchestras and the circulation of works in their great cultural diversity, to discuss key issues such as creation, the circulation of works and artists, and artistic education.
2nd International Forum of French Orchestras (2003)
The 2nd Forum des orchestres took place on June 26 and 27, 2003 at Ircam - Centre Georges Pompidou. On this occasion, the orchestras decided to launch a national debate on the following theme: "The orchestra in the city". Discussions focused on two central issues: the relationship between artists, politicians and audiences, and the place of orchestras in territorial policies.
1st International Forum of French Orchestras (2001)
The 1st International Forum of French Orchestras took place on May 16 and 17, 2021. The theme was "Orchestras in the present - living music in the 21st century". Discussions focused on a number of fundamental issues: audiences, orchestral performance, repertoires and cultural policy tools.